Final Instruccions
PACKET PICK UP:
Competition numbers and chips will be Thursday 21 and Friday 22 of July, Outside area of Parque Bicentenario (Av. Amazonas and Av. de la Prensa) from 10:00 a.m. to 7:30 p.m. For the withdrawal of their participant kit, the competitor must present their identity card and vaccination card with a full dose against COVID -19.
CHANGES OF NAMES OF COMPETITORS ARE NOT ALLOWED

Registered athletes will receive:
Envelope with instructions
Ruta de las Iglesias' Magazine
Bandana in support of Special Olympics
Competition number
Electronic timing chip, TYR (attached to the number)
Collectable Race t-shirt
Accident coverage bracelet thanks to Equinoccial
RACE DATE:
SATURDAY JULY 23, 2022
19:00 DEPARTURE ZONE:
The athletes must present themselves at the start line at Av. América and Checa at 19h00. (To access this zone, the athlete must enter from North to South, beginning at Av. 18 de Septiembre and Portoviejo).
Departure will be by pens that will be organized according to the times achieved in the previous edition of the Ruta de las Iglesias or in a race with an official certificate of competence (information that must be sent to the organization until May 05th, 2022).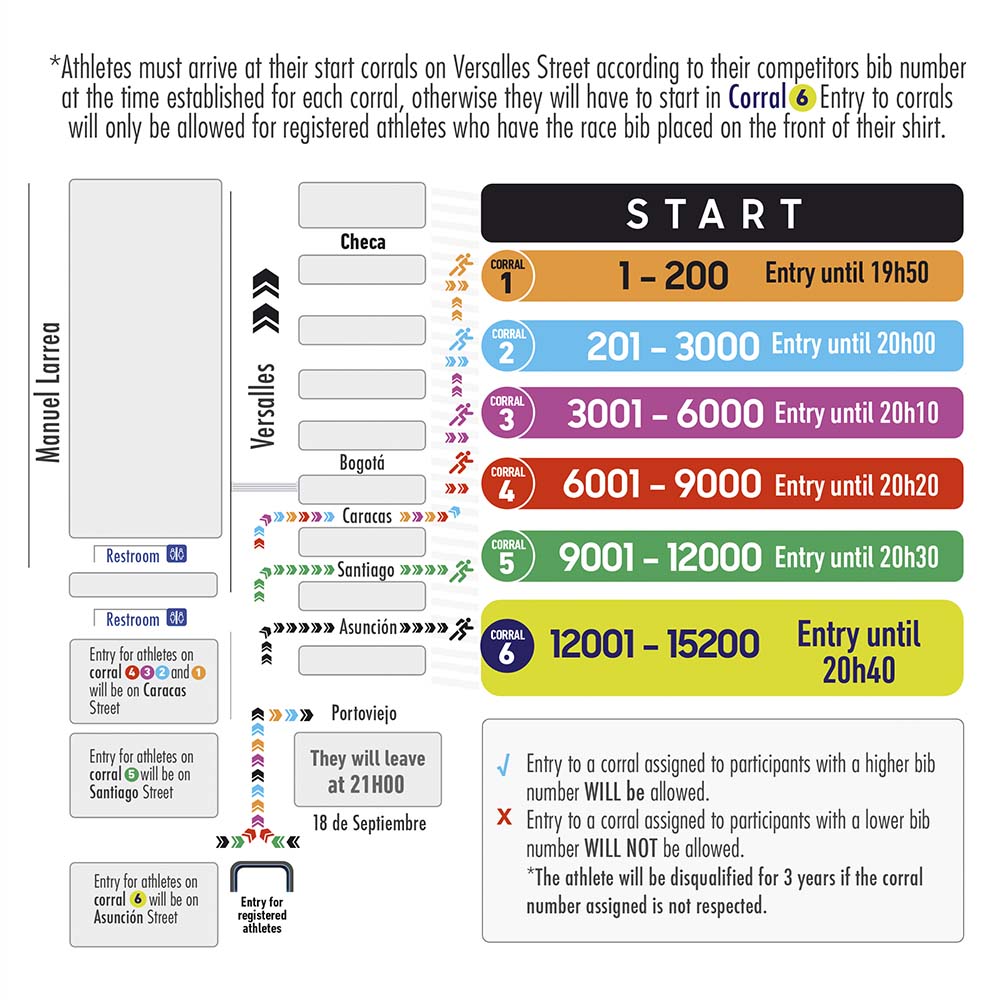 20:00 START:
The race will start at 20h00.
21:30 AWARD CEREMONY:
At the party zone - Av. de los Shyris.
THE AWARD CEREMONY WILL USE CHIP TIME, CATALOGUED AS OFFICIAL IN THIS EVENT. The official award ceremony from all the categories will be taking place on Friday July 29th at 16h00 at the TVentas office on Av. Juan de Ascaray 355 and Amazonas (next to the Bull Fighting Plaza). The results of the competition will be published after midnight on the day of the event at: www.rutadelasiglesias.com
KM MARKINGS AND HYDRATION:
Each kilometer will be properly signaled and illuminated. The hydration points will be located throughout the route and at the Finish line.
MEDICAL SUPPORT:
The race will have medical support and assistance from:
LIFE AND ACCIDENT INSURANCE EQUINOCCIAL
Secretaria Nacional de Riesgos (National Risks Secretariat)

Private Medical Systems

"Veris is a network of outpatient medical centers committed to providing treatment and diagnosis"
SECURITY:
Security will be handled by:
National Police

Metropolitan Police*

Integrated Security Service
FINISH LINE:

After the finish line, the runner must return their chip and in exchange they will receive:
Collectible athlete's medal
Collectible athlete's bag
Thermal blanket
Fresh fruit thanks to Supermaxi
A bottle of Dasani water
A bottle of Powerade